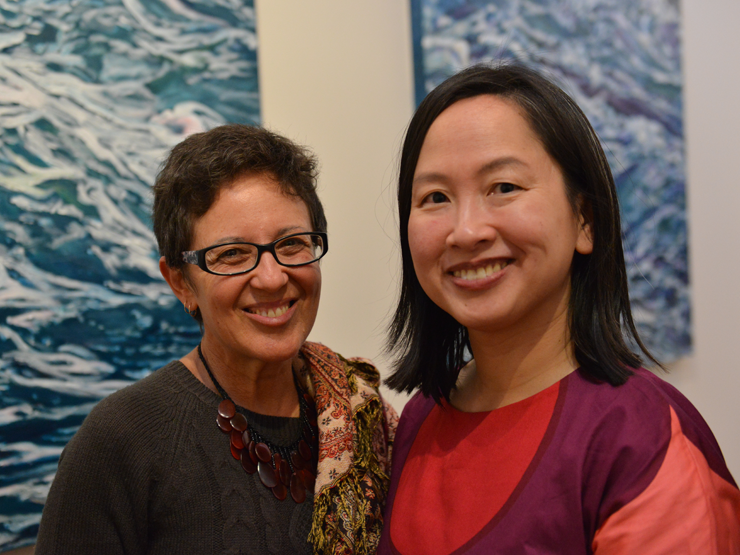 'Blue' a new solo exhibition by Camellia Morris
My second solo exhibition entitled, Blue is now showing at 2 Danks Street Waterloo in Sydney's inner city.
Growing up in the beachside suburbs of Sydney, the coast has been a significant influence in my life and art practice over the years.
Blue was inspired by my walks along the coast where I would often stop to watch the waves crash onto the rocks below. I could never tire of watching the spectacular splashes or observing the delicate swirls and eddies as the water recedes.
I was also spurred on by Da Vinci's study of the motion of water. Da Vinci was fascinated with moving water, and produced many extraordinary drawings of water passing obstacles and of water falling. His drawings bear testament to his powers of observation and intimate understanding of the behaviour of water.
The sea, itself a large body of water, is in a perpetual state of restless movement. Its changeability lends itself the ability to evoke a meld of moods and emotional responses.
These works explore the tension between exhilaration and fear; between the joy of rollicking among the waves and the threat of impending danger; between serenity and the fear of the unknown.
Acrylic paints and mediums were used to create thick layers of texture in this body of work. Impasto mediums were applied to accentuate peaks and troughs in the water, and to give the works a highly tactile quality. Touches of iridescent and interference acrylics were also applied to convey transient light.
Immerse yourself in the paintings and be lulled by the gentle swirling forms; succumb to the relentless tide; or triumph in the exuberance of untamed water.